Roderick Campbell
(1873 - 1937)
Though not a household name among pipers, Roderick Campbell's contribution to the catalogue of great pipe tunes is outstanding: "Royal Scottish Pipers Society," "Edinburgh City Police," and "Cecily Ross," to name just three. He was extremely prolific, and his tunes are dotted throughout many older collections of bagpipe music, including Logan's Collection, Volume 3, and the books of John Wilson, Edinburgh, who was his most famous pupil.
He was  Born on May 24, 1873 in Lochbroom, Ross-shire to Thomas Campbell and Margaret Morrison, both 27, who had married in 1856. Sandy Cameron reportedly heard him play before he'd received any formal tuition, was amazed by his ability, and subsequently became his teacher. He was no second-rank player, winning the Gold Medal at Oban in 1908, and the Open Piobaireachd there in 1910. He was piper to the Count de Serra Largo, who lived in Tain, Ross-shire, and then to Colonel Scott in Derby, England, and was instructor to the Royal Scottish Pipers Society.
After the Great War he settled in Edinburgh, where he spent most of time making reeds and teaching. Aside from these details, very little is known about him.
John Wilson, spoke highly of him as a teacher and friend. In his autobiography, A Professional Piper in Peace and War, Wilson wrote:
Roddie died in August 1937. Dr. Simpson told me that there was nothing organically wrong with Roddie but that he had lost the desire to live and just turned his face to the wall and died. He was buried in Liberton cemetery and I attended the funeral on my way to Games. Some people thought it strange that I didn't play a lament at the graveside, but I was never asked, and I was never one to thrust myself forward. His death was a great loss to me, for we had a very happy relationship. He was not only my teacher for 20 years, but also my good friend, for we had so much in common. As is so often the case, once he was gone, I bitterly blamed myself for not doing more to help him. I redeemed his two medals from the pawn shop, and one of them was the Argyllshire Gathering Gold Medal. It was thicker and heavier than mine and when I met Roddie's brother Alex at Oban in September I told him that if he didn't want to pay what it cost me to redeem the medals, I would be very happy to keep them, but no such luck.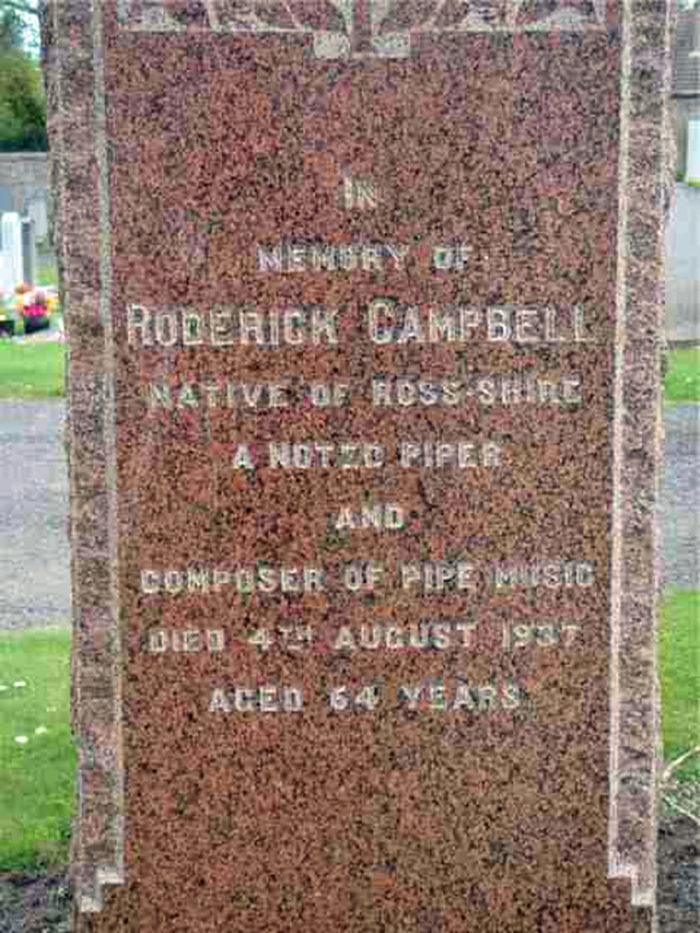 Roddie Campbell died a single man on August 4, 1937 in Southfield Sanatorium in Edinburgh of pulmonary tuberculosis. He was noted on his death certificate as a "professional piper."
JM, March 2007
-with notes from Andrew Berthoff, Dr. William Donaldson, 'A Professional Piper in Peace and War', by John Wilson of Edinburgh, and 'A History of Piping', by Captain John A. MacLellan. Added research by Janette Montague.